November is Pet Diabetes Month
Has your chubby pet recently lost weight? Does she drink too much water and eat too much food? These can be symptoms of diabetes mellitus, and if left untreated can be a severe health risk for your dog or cat.
Diabetes is as common in pets as it is in humans. Overweight pets are more affected, and so are indoor cats that are on a purely dry food diet. Dogs and cats can be treated for diabetes using insulin and/or special diets to improve their metabolism of ingested carbohydrates. The disease can be controlled, and in some cats it can be put into remission.
Check out our "Resources" page for more information on diabetes. And if you'd like to make sure your pet does not have this disease, please schedule an exam with us this month. If you mention our website, we'll check your pet's blood sugar level at no charge.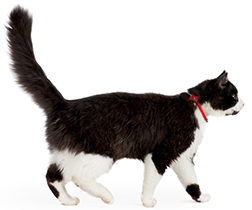 Office Hours
Monday, Wednesday, Friday:
8:00 am – 6:00 pm
Tuesday, Thursday:
8:00 am – 8:00 pm
Schedule an Appointment
If you'd like to make an appointment online or check your pet's medical records, log in to your Pet Portal account below. If you don't have an account yet, you can also click on the link to sign up. It's easy!

Rapport Pet Portal Login