H a p p y  N e w  Y e a r !
Here's to 2019; hopefully a year of good health and much happiness for us all—people and pets alike!
January is a chilly time of year in the Bay Area, and also a time when we would see the aches and pains of arthritis in our pets. If your pet has trouble getting up from their bed, or they hesitate going up or down the stairs, it could be a symptom of arthritis.
A physical exam of your pet can demonstrate that a joint hurts, and then x-rays can help pinpoint which joint is affected as well as show the severity of the disease. Some pets that are frightened or have an area that is painful might need to be given a sedative or pain reliever to allow us to obtain diagnostic x-rays, but many will be comfortable with the x-ray process and not need that at all.
Your pet's arthritis can be treated in a variety of ways, including diet changes, joint supplements, pain relievers, and occasionally, referral to a specialist for arthroscopic surgery to improve joint function.
If you think your pet might have arthritis, please call us for an appointment so we can check it out.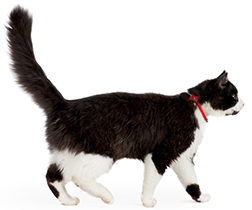 Office Hours
Monday, Wednesday, Friday:
8:00 am – 6:00 pm
Tuesday, Thursday:
8:00 am – 8:00 pm

We will be open from 8:00 am – 2:00 pm on December 24 and 31.
We will be closed on December 25 and January 1.
Schedule an Appointment
If you'd like to make an appointment online or check your pet's medical records, log in to your Pet Portal account below. If you don't have an account yet, you can also click on the link to sign up. It's easy!

Rapport Pet Portal Login