The Summer of 2020
Here we are in the middle of a summer like no other. We are all doing our best to cope in a difficult, constantly changing world right now. Some of our clients are also coping with the idea of euthanizing an elderly or ill pet, regardless of the pandemic. If you're in that situation, please don't hesitate to contact us. We are here to explain and discuss your options, and to help you make the best decisions for your pet.
On a lighter note, we'd like to introduce Valerie, our newest employee. You might not actually see her until the pandemic is over, but you will probably speak to her on the phone if you call us. She's been a client for many years, and she fits right in with our team of friendly, compassionate men and women. Welcome Valerie!
August 15th will be Dr. Buchinger's 23rd anniversary of owning Alameda Pet Hospital. She says it's been wonderful, and is very grateful for all your support!
Wellness Exams
Please call us for an appointment if your pet needs a wellness exam. They are available during our evening hours in addition to earlier in the day.
Your Appointment
Due to the spread of the COVID-19 virus we are taking extra steps to minimize the risks of exposure. We are limiting the number of individuals inside our office by asking you to wait in your car until your exam room is ready. And our team will handle your pet in order to limit direct contact with you.
Our hope is that the precautions we take will allow everyone to stay healthy and ensure that we'll be able to continue giving help to your pets. But if you are ill, please call and reschedule your appointment or send a healthy person to our office if a pet needs to be seen. We cannot afford to be sickened with COVID-19, for if that happens, we'll have to close the office and will be unable to help pets in need. Thank you for understanding.
If your pet needs a prescription refilled, you might want to try our online pharmacy so that your order can be delivered directly to your home. And please call or email us if you have specific questions about your pet.
Coronavirus Information
For the very latest information on COVID-19, you can check these sites:
CDC – Centers for Disease Control and Prevention
WHO – World Health Organization
WSAVA – World Small Animal Veterinary Association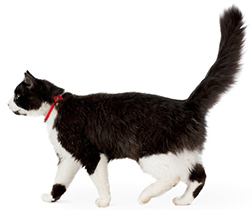 Office Hours
Monday through Friday:
8:00 am – 6:00 pm
Tuesday and Thursday:
8:00 am – 8:00 pm

Evening hours are exclusively for wellness exams at this time.
Schedule an Appointment
Online scheduling is currently not available due to the COVID-19 pandemic. Please call our office to schedule an appointment.

If you'd like to check your pet's medical records online, you can still log in to your Pet Portal account below. If you don't have an account yet, you can also click on the link to sign up.

Rapport Pet Portal Login