Heartworm Season is Coming!
With all the rain we've had this winter, it means that there will be plenty of standing water where mosquitoes will breed and populate our neighborhoods in the spring and summer. Heartworm disease is caused by foot-long worms (heartworms) and is spread by mosquitoes who pick up the infection from dogs who have the disease. Though it's much more prevalent in humid states like Texas and Louisiana, there are plenty of cases diagnosed in California every year, and the species of mosquito that can pass heartworm to our dogs does live in the East Bay. Hotspots of heartworm disease include the Sierra foothills, the Modesto area, and the northern forests of Mendocino County.
We recommend that all outdoor dogs be protected from heartworm disease. This is accomplished by administering a monthly medication which stops the infection as it travels in the bloodstream. Because it takes seven to nine months for an adult worm to end up in the heart, the medication stops the worm's growth before it reaches the heart. Up to 250 adult worms can end up in a dog's heart and lungs, living up to five years and causing heart failure. Cats can also be affected, but sometimes only one worm is present. These cases are more difficult to diagnose.
Heartworm Disease is Preventable
If you would like to start your dog on a heartworm preventative in April, we will perform the required blood test at no charge (a $40 value) prior to starting the medication. We must have seen your dog in the last six months for this offer to be valid. Otherwise, please schedule an examination and consultation for your free blood test.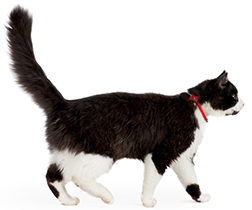 Office Hours
Monday, Wednesday, Friday:
8:00 am – 6:00 pm
Tuesday, Thursday:
8:00 am – 8:00 pm
Schedule an Appointment
If you'd like to make an appointment online or check your pet's medical records, log in to your Pet Portal account below. If you don't have an account yet, you can also click on the link to sign up. It's easy!

Rapport Pet Portal Login