Meet the APH Team
Veterinarians

Laura Wagner, BVetMed, MRCVS
I was born and raised in San Francisco and moved to Alameda twelve years ago with my husband, a native Alamedan. We have two young boys, a lab-pointer cross named Cash, and a cat named Tofu. I received my degree in veterinary medicine from the Royal Veterinary College at the University of London in 2005. I love spending time outdoors. In years past, I was part of a collegiate rowing team. These days, I spend my free time hiking and exploring the Bay Area. I have three 14'ers under my belt: Mt. Shasta, Mt. Whitney, and Mt. Langley. And, I hope to do more! I became the owner of Alameda Pet Hospital in 2020, and I thoroughly enjoy my role serving our amazing clients and patients.

Karen Buchinger, DVM
I sold Alameda Pet Hospital to Dr. Wagner at the end of 2020, after owning it for 23 wonderful years. Now I can focus on being a general practitioner to help all the dogs and cats that need us, and in my new spare time I plan to resume hobbies long-forgotten. I grew up in California and have always had animals around me. It seemed natural I should become a veterinarian. I enjoy spending time with my partner, playing with our dogs and cats, and being outdoors. I also love to travel and see new places.

Holly Trief, VMD
I knew I wanted to be a veterinarian at a very young age. I was a collector of unwanted animals, having two dogs, a cat, a duck, a turtle, and three parrots at one point. More than 30 years after receiving my veterinary degree, it is still the career that I love. I attended the University of Pennsylvania for both my undergraduate and veterinary degrees and eventually made my way west. I love the San Francisco Bay Area and enjoy hiking in my spare time. It is with great pleasure that I am joining the Alameda Pet Hospital team.
Customer Service/Reception Staff
    Rebekah, Hospital Manager
I grew up in Alameda and love being a part of this community. When I'm not working I love to take my dog hiking in the Oakland Hills or to the dog park in Alameda. If you see us be sure to say "hi!"
    Chelsea
As a proud East Bay native I am honored to serve the community I grew up in. In my freetime, I enjoy taking my cat Tucker on leashed walks around my neighborhood and thrifting. I frequently stop mid-conversation to point out the beautiful dogs or cats I see. I love working with people and their animal friends alike. I started my journey working with animals by volunteering at the Humane Society and I am excited to continue growing and learning at Alameda Pet Hospital.
Kennel Staff
    Rosa

I have worked at APH for over 17 years. I also teach music at Fun Time Daycare in El Cerrito. I have my own Afro-Peruvian band. We perform a variety of Latin and Afro-Peruvian music at restaurants, private parties, and other venues, including El Mono Fresh Flavors of Peru restaurant every Saturday 6-9 pm. And I'm an active member of the Sanctuary Felicedad in Peru, where I help raise funds to rescue, feed, and treat homeless dogs and cats. My love of animals, though, always brings me home to my dog, Guapo.
    Michael
While I've been working at the hospital for a while now, I have been around pets and animals for most of my life. I enjoy meeting and taking care of all the different dogs and cats that come to stay with us. Making connections with the animals in order to make their stay more pleasant and building relationships with their owners gives me a great sense of accomplishment. I have three cats at home that act like a pack of rascals, but I love them so much I wouldn't have them any other way.
Veterinary Nursing Staff
    Cory
I've been working at Alameda Pet Hospital for almost 18 years now, and I am proud to be a veterinary technician. I consider myself to be a cross between Ace Ventura and Dr. Doolittle, due to my humorous personality and love for all animals. No job is better than mine; I get to play with everyone's pets all day. When I'm not at work, I'm out enjoying life with my family and friends.
    Sara

    Alexis


    Janeth
I have always had a deep passion in helping and showing compassion to animals in need. As a little girl, I always knew that I would grow up to have a career with animals. I've had many pets growing up. Seeing them in their moments of need and feeling helpless impacted me to pursue a career in the veterinary field. I currently have four pets, a guinea pig called Snowball, a cat named Ottie, a rabbit called Max and the sweetest chihuahua named Perla! I love meeting all our adorable patients and being able to treat them with the utmost care. It is a lifelong dream come true; being able to work at Alameda Pet Hospital.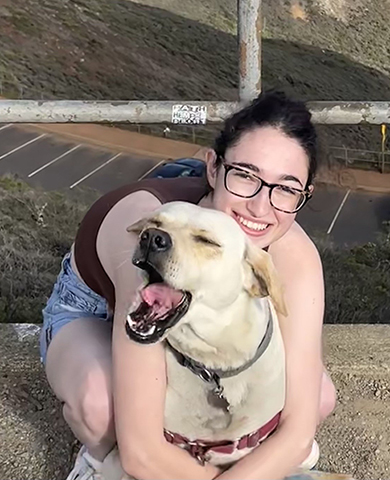 Audrey
I've only been at APH for a little over a year now, but I've been around animals my entire life. I love working in vet med and couldn't imagine myself doing anything else. There's nothing more gratifying than treating sick pets and seeing them come back feeling happy and healthy. In my free time, I enjoy hanging out with my sassy orange cat, hiking with my pup, and horseback riding.
Mission Statement
At Alameda Pet Hospital we provide compassonate, professional veterinary care for both you and your pet. We strive to provide high-quality medical guidance to educate you about pet care for the entire life of your pet. We try to treat your pets as if they were our own.
Contact Us
(510) 523-1626
alamedapetstaff@gmail.com

Alameda Pet Hospital
2275 Buena Vista Avenue
Alameda, CA 94501
Google Map